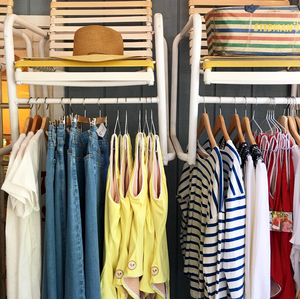 Est. 2005
Teeny Weeny Bikini co. opened in 2005 in the Historic Village of Rosseau in Muskoka. Fashion designer Ashley Eady decided to start a Made in Canada swimwear brand that was comfortable, vintage-inspired and flattering to the real female figure. Being that Eady grew up as a cottager on lake Rosseau herself, she had a hard time giving up her summers to work in the city. And so TWB was born.
Our stores
Open May-Thanksgiving
Teeny Weeny Bikini Co. — 5 Rice Street, Rosseau, Ontario
Cabin by TWB — 6 Rice Street, Rosseau, Ontario
*Due to COVID-19, CABIN will be opening in TWB co. for the season. Come see us at 5 Rice St.
Please follow us on Instagram to be kept  up to date. @twbco and @cabinbytwbco
Phone: 905-808-2488
Blog
Many people ask me in the shop, where I ride the Vespa from? So I thought I'd share with you.